2
RECENT PRODUCTIONS and PROJECTS
West of the Exe: An Installation of Ideas
4 August – 2 September 2017 (The Boat Shed, Exeter)
West of the Exe was a community engagement project I created and led in Exeter for a pop-up arts venue on the west side of the River Exe called The Boat Shed. Through creative workshops and interviews it explored what a new cultural space could be for residents of Alphington, St Thomas and Exwick – West Exe wards of Exeter City.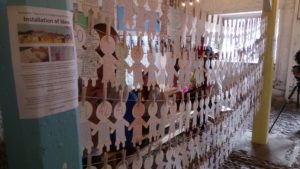 I worked with over 130 participants from primary and secondary schools, care homes, local history groups, libraries, faith communities, knitting groups and more.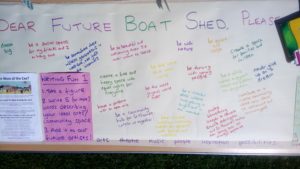 Their most provocative, inspiring and passionate responses about communities and their wishes for a new arts space were captured – then added to by visitors – in this playful and participatory text installation at The Boat Shed during the summer holidays.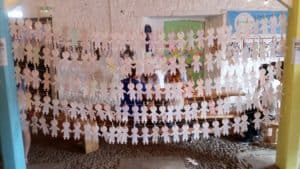 Origins Unknown: Writing Fellowship, Bristol Uni
Oct 2016 – March 2017 (Theatre Department & Theatre Collection)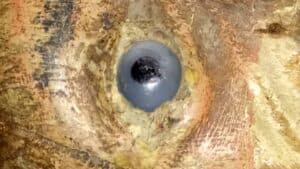 A woman stands unspeaking at the funeral of her brother, until she becomes invisible.
A historian lectures on a puppet's origins, but words begin to fail both of them.
A mythological figure is desperate to shed a story, but can't tell its owner what it is.
A puppet wakes in panic, careering back through scrambled memories to its beginnings.
A man loses his fiancée to history, but questions if she was ever there at all.
Origins Unknown is a play about extraordinary loss. It explores what happens when we try and retrieve that which has been consigned to the past forever, and how we respond to the unfathomable nature of that search.
When seven years of history known only to one person seemingly goes with him to the grave, it sets in motion a chain of transformative events for five different characters. As their stories connect and collide, time and space is disrupted: facts from the past fragment and multiply, and histories both personal and epic become embittered battlegrounds for ownership. Weaving together myth, reality and history, it explores a compelling need to find origins, and through those, the beginnings of the stories that mattered most to us.
I spent a day a week at the Theatre Department running group sessions and one-to-one tutorials for students, covering aspects of playwriting and creative process and connecting them more directly with the industry beyond their course of study.
The other day and a half a week I delved into my own playwriting research, inspired by the vast archive that is the Theatre Collection and which by March 2017 had guided me towards the first draft of a new piece of work called Origins Unknown, which received a public rehearsed reading with a student cast in April 2017.

Threads
11 – 29 April 2017 (The Hope Theatre, London)
'A highly original and unpredictable piece of theatre that grabs hold of you and doesn't let go. It deals in metaphors without trying to be too clever, and remains a gripping human drama.' (The Blog of Theatre Things, 4*)
'The importance of memories and how they are inextricably linked to our ongoing perception of our (former) loved ones are explored, as are the consequences of trying to obliterate all traces of the past from our lives.' (Breaking the Fourth Wall, 5*)
You can watch the trailer video for Threads here.
Invincible
21 February – 4 March 2017 (Site-Specific)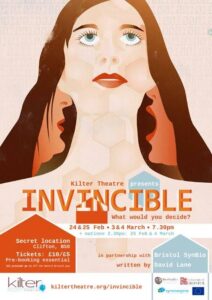 'Conception and delivery both outstanding. Knife-edge balance. Unforgettable.' (Head of Research and Innovation Centre for Alternative Technology)
'Mirrored many of the discussions taking place on an international stage.' (BrisSynBio Researcher)
'I came to see Invincible and was blown away! I really enjoyed how it was staged in a house, the audience interaction and that it was based on real research that is happening right now at Bristol University.' (Audience Response)
You can watch the 5-min video trailer here, showing the development process with Kilter Theatre.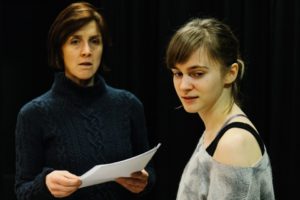 (Invincible in rehearsals – Alice Barclay [R] and Grace Courtney [L])
I Am England
28 – 30 July 2016 (Derby Theatre)
Bankrupt, isolated and in a state of collapse, a once-proud nation falls apart. Nostalgic for empire and thirsty for revenge, a small-town politician presents a hero to the masses: a poster-boy for conscription. The future of the nation hangs in the balance, but those in power must confront the truth of who they are – and who they might become.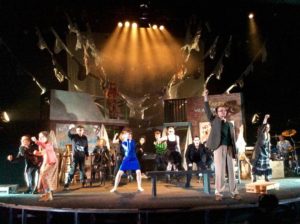 Inspired by Shakespeare's Coriolanus, I Am England (originally commissioned by the egg Theatre Royal Bath, 2012) was given a stunning new young company production only six weeks after the divisive EU Referendum result.
It offers a unique perspective on political power and social justice from the generation whose stories are yet to be written.
Ancient Sunlight: Stories from the Oil Age
Published July 2016, Made with Kaleider Artists
Ancient Sunlight is an extraordinary publication comprised of the words and images of young people. Along with five other artists (Catherine Cartwright and Ama Bolton, Sally Flint, Amy Shelton and Shiona Morton) Kaleider invited us each to lead the creation of a book about the Oil Age with Exeter's young people.
Then in September 2014 we led workshops in Stoke Hill, West Exe, Exeter College, Isca, Crediton Library, St James, St Lukes, Kenton Primary and Exeter Library. Together we created The Books of Love, Leadership, Technology, Food, and Justice.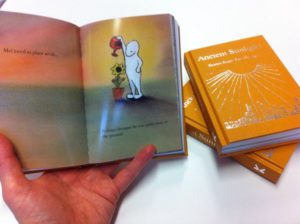 I led on creating The Book of Technology: a science professor's logbook of an audacious experiment in futurology, testing out which technologies human beings will genuinely come to rely on once the Age of Oil has passed us by.
You can watch a 5-minute video about the process, and the ideas behind it here.
Tip of the Tongue
22 – 23 January 2016 (Scratch, Plymouth Barbican)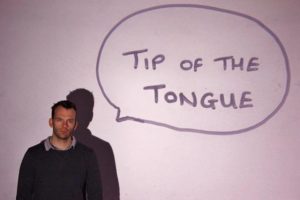 Greg is losing touch with language whilst his three year-old daughter Ruby gains control of hers. His wife Sophie doesn't know how to talk to him, and they've never known how to talk to one another. Mum just talks too much.
When a diagnosis arrives, it pushes everyone to search for what needs to be said before it's too late, what can't be said because it goes beyond words, and what truths are exposed when the language that built the lies just crumbles away.
A play about what we wished we'd said, and what you just can't put into words.
Tip of the Tongue is a commission co-created with Symbiotic Theatre: a one-person show fusing text, movement and sound to explore the journey of a young man suffering from a variant of FTD (Fronto-Temporal Dementia) that results in aphasia: the gradual loss of meaning in language.
It is inspired by research with neurologists, support workers and speech therapists from University College London, the UCL Primary Progressive Aphasia Support Group, and Dyscover. Currently in development towards full production.
Stalin's Daughter
8 April – 22 May 2015 (Touring)
'Vivid, disturbing and utterly fascinating… Lane's writing has a hurtling power' (The Times, 4*)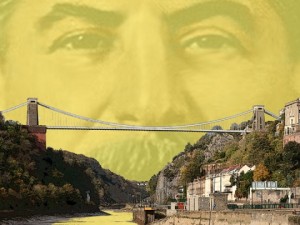 'Lane's script is a rhythmic rollercoaster … an inventive, passionate piece of work'  (WhatsOnStage, 4*)
'dreamlike visions of both the dark and wonderful… pure elegance'  (Express and Echo)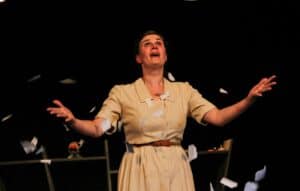 'a powerful depiction of the tormented mind of a woman trying to escape the trauma of her past'  (The Public Reviews)
COMMISSIONS and RESEARCH & DEVELOPMENT
What Remains of Us: every year since 2000 reunions have been planned for the divided family members across the North/South Korea border. Across eight hours individuals reunite and then part again forever. This is a new play being developed with director Sita Calvert-Ennals and supported by ACE's Artists' International Development Fund with a research trip to Seoul, Korea in October 2015.
Just Jones &: a co-writing collaboration with director Rebecca Manson Jones and designer Jens Cole. At moments of extraordinary crisis, extraordinary change is willed and possible. To help us imagine and cope with the huge potential for transformation current world events offer us, we have looked to the past – Coriolanus is written against the immediate backdrop of the Corn Riots in 1608 and a deeper context of Shakespeare's childhood and mature experience of starvation due to crop failure and mismanagement of food supplies by the ruling classes. In Shakespeare's lifetime, one third of the population of Stratford dies of hunger. The population of London explodes. Rival cities close their gates. What happens in a land of plenty when too many people are denied access to what a privileged minority wastes?
DRAMATURGY 
Artistic Associate, The Engine House: recording and writing about artist collaboration on site-specific community-based work, for the project's Viewing Chamber.
Beaford Arts: dramaturgical support within a residency project called Breathing Space for Devon-based artists and theatre companies, exploring possibilities for rural community collaboration in the development of new touring work for families.
Theatre Rush: continuing rehearsal and script dramaturgy on rural touring show for families The Lost Tales of Devon.
Kaleider: exploring technology and the digital world through their fantastic Ancient Sunlight project, creating a new Book of Technology with primary school children in Exeter in Autumn 2015 to help inform a huge live performance for the city. See my blog series for more on theatre and technology.
Arts Council Assessor: Until 2016 assessing new writing and work for young people produced by NPOs on behalf of Arts Council England.